924 and S (all years), 944 (1982 - 1985)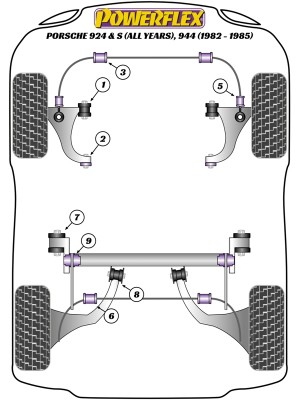 Powerflex Polyurethane Fahrwerksbuchsen für Porsche 924 + 924S alle, 944 (1982-1985)

Front Anti Roll Bar Bushes, Check the original bush design and select the correct design and bar diameter from the following before ordering.
PFF57-305-* = Round bush, 35mm outside body diameter and 41mm overall length.
PFF57-306-* = Round bush, 40mm outside body diameter and 55mm overall length.
PFF57-209-* = D shaped bush.
PFF57-307 Front Anti Roll Bar Outer Bush fits 924S & 944 models with a alloy bracket which houses the bush & bolts onto the wishbone. For all other models use PFF57-205-* and PFF57-308.
*Check roll bar sizes before ordering.
Page 1 of 2
Items 1 - 15 of 22
---